Growing up in the South I learned a thing or two about china patterns. Now that I enjoy spending my free time antiquing, I have begun to learn a bit more about the things that I love the most…including but not limited to china.
I have always been drawn to blue and white accessories (see my post on blue and white favorites here) so it is no surprise that I have been gravitating towards blue and white china on my antiquing adventures. Even though, there are literally dozens of blue and white patterns out there, this post focuses on my favorites.
I think that I am attracted to blue and white china patterns not only because they are classically beautiful, but I find that you can use them as a staple to create beautiful, modern tablescapes. There is just something about blue and white together that make a bold yet elegant statement.
So without further adieu, here are my five favorite blue and white china patterns.
Blue Willow – Spode and Johnson Brothers and others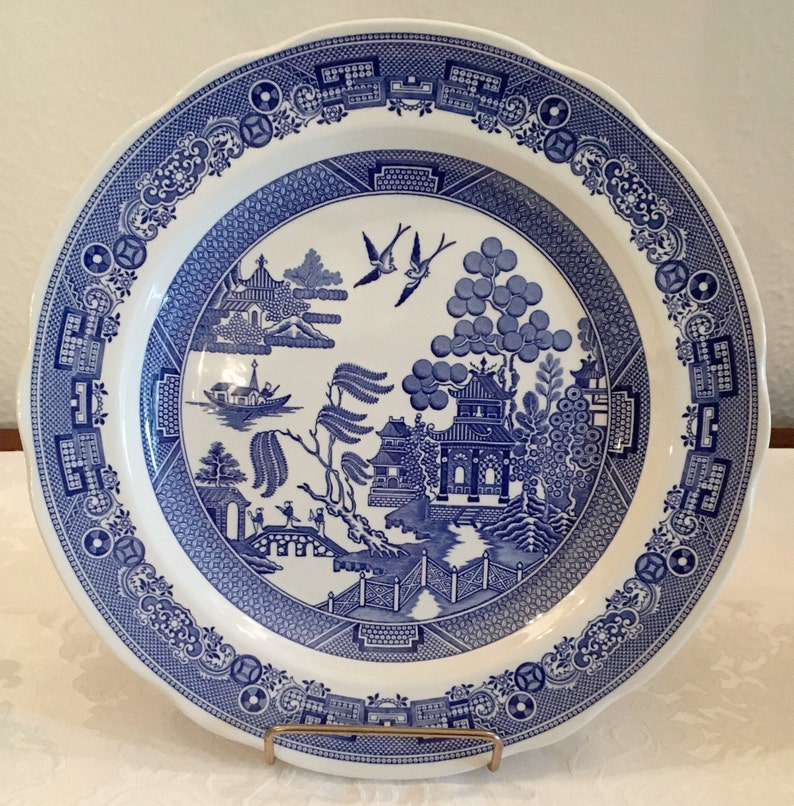 Value: $29 for dinner plate and $14 for a cup and saucer
Blue Willow or Willow Blue is perhaps the most popular blue and white china pattern. It has been produced in some form since the 1700s. Because of its popularity, many makers have put their spin on this classic design. This pattern often includes a willow tree, bridge, tea house and fruit trees. The original design was manufactured by Spode in 1790. If you find an authentic Spode piece it will have the Spode name and pattern number at the bottom.
Blue Fluted by Royal Copenhagen
Value: $56-$100 for Plate and $34-$85 for a cup and saucer depending on age and pattern
This lovely blue and white antique pattern actually comes in three different versions. The fanciest of these is the Full Lace as shown here. There is a Half Lace version has less blue edge decor along the fluted rim, while the Plain version has only the central pattern and looping vines. This pattern was first sold in 1775, which is the same year Royal Copenhagen was founded in Denmark.
Blue Italian by Spode
Value: $49 for a China Plate and $17 for a cup and saucer
The Blue Italian pattern by Spode was launched in 1816 and has been in production ever since. It featured an Imari Oriental border with beautiful depictions of the Italian countryside. Transferwares of this pattern are popular with collectors today.
Calico Blue by Burgess and Leigh
Value: $33 for a dinner plate and $20 for a cup and saucer
Inspired by 19th Century indigo fabrics, the Blue Calico pattern brings quintessential country charm to your home. This popular chintz design has been in production for over 50 years. The rich cobalt blue tones and scrolling blossom design complement both casual family dining and special occasions alike.
Blue Danube By Lipper International
Value: $40 for a dinner plate and $17 for a cup and saucer
The Blue Danube pattern was developed in 1951 by Lipper International. This unique pattern is under-glazed decorated.  It is patterned closely after a blue and white pattern that was popular during China's Yuan Dynasty which was approximately 1260-1368 A.D.  The Blue Danube pattern depict the ancient Chinese symbols of good fortune and happiness.
**All prices listed here were gathered from Replacements, Ltd. Costs sometimes will vary with age and pattern.
(Visited 8,704 times, 2 visits today)